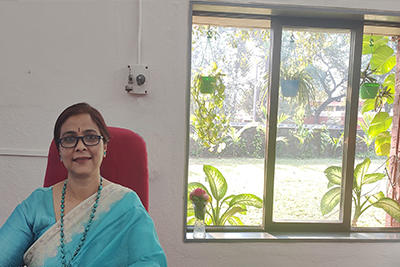 Education is the cornerstone of development of a society. The measure of the development of a nation depends directly on the level of education of its people. It gives a sense of security and has the power to change lives. Education helps to recognise the diversity and richness of the world around us and appreciate the importance of freedom and reasoning.
A school is a place where not only knowledge is imparted; it moulds young, impressionable minds. It has the responsibility of shaping and preparing the citizens of tomorrow.
At Atul Vidyalaya, we are committed to take up this challenge as we aim to identify and nurture talent and the potential in each child to empower them to face the challenges of the global village.
The experienced team of teachers are our pillars, who are guided by the philosophy of learning with joy and instilling values. We collaborate to nurture creativity, critical thinking and excellence in all the students.
Our students are inspired to believe in themselves, think big and think freely. The school uses modern teaching methodology using the latest technology to facilitate adaptive learning curriculum that connects to students of all learning styles. The lush green surrounding provides a rare opportunity to the students to be with nature, taking learning out of the confinement of four walls.
This holistic learning process is both inspiring and stimulating which opens new doors for our students and prepares them to overcome the challenges in life, to excel in any field that they pursue and most important, to become good human beings.
Sonal Verma
Principal
Atul Vidyalaya